Posted on February 11, 2010
-
Add Comment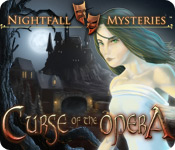 With the weather bad in many places (we have snow in Texas) — it's a great time to cuddle up with a fun adventure and hidden object game. If you enjoyed Mystery Case Files: Return to Ravenhearst and PC Game Review: Mystery Case Files: Dire Grove, download Nightfall Mysteries – Curse of the Opera and don't bother reading the rest of this.
I haven't checked out Nightfall Mysteries – Curse of the Opera because I've had to lay off games and using the computer in the evenings due to eye problems. But I'm hearing it's the kind of game that fans of point-and-click adventures will want to play while waiting for the sequel of their favorite to be released.
Take on the role of a lowly stagehand in an opera company tasked with solving a deadly mystery! The Opera troupe is invited by the reclusive Count Vladd Vansig III to his small hamlet to perform a special Opera for him. Strangely, there are no villagers to speak of except for the Count and his caretaker. Over the course of the night, people go missing and are killed! Use your Hidden Object skills to find out the identity of the killer and escape the village alive in Nightfall Mysteries – Curse of the Opera!