Posted on May 6, 2010
-
1 Comment - Join The Discussion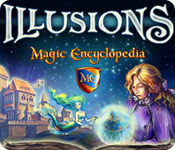 Magic Encyclopedia: Moon Light was a well-rounded hidden object game. Magic Encyclopedia: Illusions is the third release in the series. Catherine learns of an attack on the Magic Academy, and sets out to save her school from a fate worse than foreclosure.
In her quest, she learns about The Illusionist, a wizard that's changed the appearance of countless objects around the world and is gathering an unstoppable army. To defeat her nemesis, Catherine must figure out ways to switch back and forth between reality and deception to solve puzzles in Magic Encyclopedia: Illusions.
Download and try Magic Encyclopedia: Illusions.